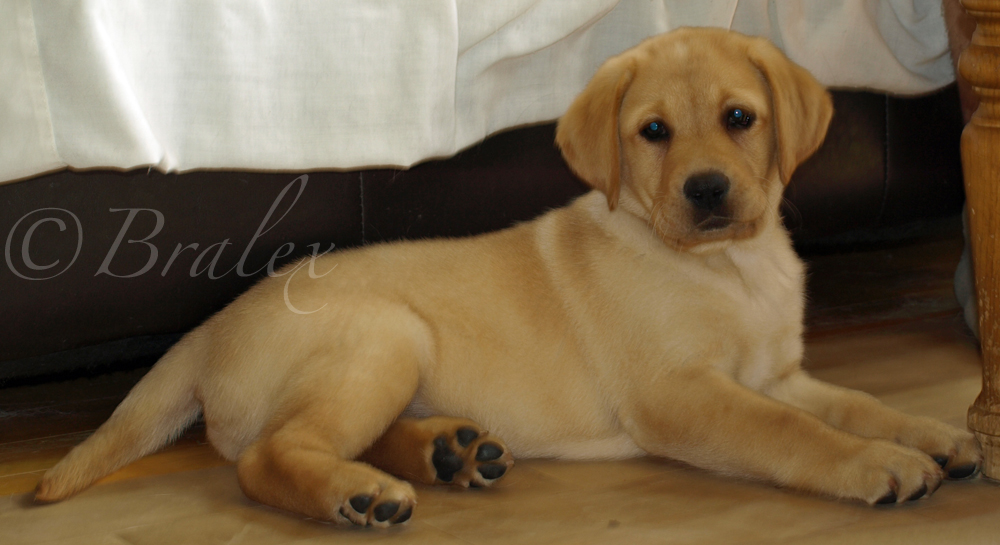 **************
Reservations are required and recommended
We have moved
July 2020 we retired to beautiful New Brunswick
We will continue to offer puppies to approved homes
as they are available where ever you may be
**********************************
Please contact us on information about litters current and planned at Bralex.

Splash and Frank welcomed a litter of yellows and blacks on December 5, 2020
One yellow male and one black
male available.
Ready for their new homes on January 31, 2021


email for more details
bralexlabradors@gmail.com
*****************************************************
If you are interested in a puppy from our program please
contact us for a better time line of when we will have something available.
All of our puppies are pre booked in advance.
Thinking about co-owning a puppy with a breeder?
Get informed before you commit.
Make sure you understand and know all the risk factors.
Don't set yourself up to be a means of profit for irresponsible breeding.

Many puppy mills operate in this fashion producing puppies from
dogs that are raised in "pet homes" only to return for
maternal duties. Creating large profit margins for the breeder
and huge risk factors for your dog.
Please keep in mind that a puppy is a huge decision and as such you should
meet with the breeder prior to booking a puppy. Unless you are having a puppy shipped via
air having a puppy delivered is not common practice and should
be avoided. It is important to note that puppy mills will often offer to
deliver your puppy to avoid the purchaser from viewing where the puppies come from.
As always when searching for a puppy keep in mind the environment
your puppy will be raised in. We in rescue spend many hours
working with dogs from other programs that produce multiple litters
each year. Do your research well and make good choices.
If you are looking for a puppy at a time when we may not have one available
please ask and we will help to find you a puppy from a reputable breeder.
Breeder referrals work.
Showing 29 years of dedication to the breed.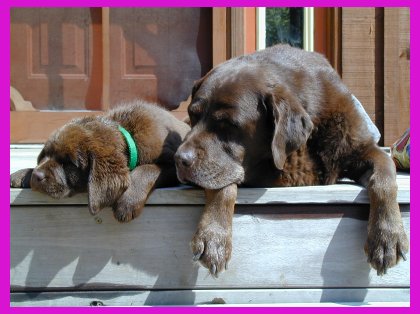 If you are looking for a puppy please
take a minute to answer some questions for us.
Adoption Questionnaire
What is a breeder
What every buyer should read

Puppy Aptitude Testing
All of our puppies are given a
Puppy Aptitude Test or TT at it is known.
Developed in 1996 this test helps us choose which
puppy is best suited for specific environments.
Testing for social attraction, dominance, self confidence, affection, independence and predictability.
**************************************************************
Providing Service and Search and Rescue dogs requires a complete understanding of each puppy in the litter.
Using careful observation over the 8 weeks they are with us we are able to match families and agencies with the perfect puppy for their needs.
Probably the biggest mistake people make (about dogs) is choosing a breed
for themselves based solely on appearance, or because "Uncle Charlie has
one and it's soooo cute!" Dogs and dog breeds are just like people -- lots
of variety. Would you choose a close friend just because s/he looks just
like Uncle Charlie's best friend? No way.

Research your breed and the breeder you choose.
You are embarking on a 15 year commitment. Do it wisely!


Gun dogs and field training available.
We practice what we teach!

Call or email for information.
***All puppies sold on strict non breeding agreements.***
Tari Yates & Wayne Yates
5422 Concession 2 Sunnidale
RR#2 New Lowell, Ontario L0M 1N0
(705)-424-6657

Helping you choose the right puppy for your home is what we do.
Our breeding program is small, only producing a couple of litters a year.
However we are always available to help you make an informed decision about where
your new puppy comes from. Whether it be here at Bralex or from
another breeder call or email us and we will
help give you all the information you will need to make the right
choice of breeder. There are a lot of myths and tall tales out there, get the
facts first, avoid the frustration and hurt of buying a puppy from the wrong place.